From the '06.9.11 Edition of the Japanese magazine AERA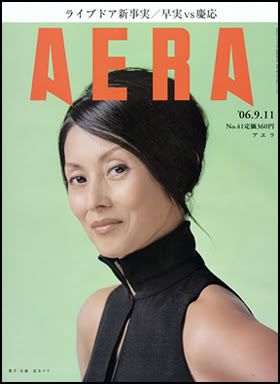 In Japan, the "Director's Cut" Version is to be released soon-

Paris Falls in Love with Yon-sama's "April Snow", too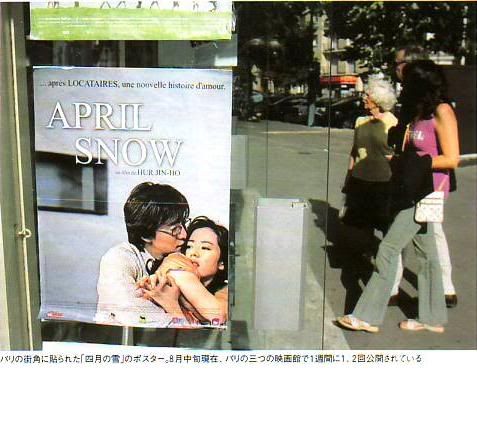 Dear "family", did you know that your "family" is growing by the minute?
There is a Parisienne that has been taken over by his beauty and gentleness.

One day, we received a mail from a passionate family of "Yon-sama" here at the editorial department.
"The film 'April Snow" is going into its third week of screening in France. Won't you cover the real story of how it is doing over there, and write about it in 'AERA' ?"
We sure will – and immediately, we looked into the situation in France.
The film was released on April 12th, Wednesday. In France, informative magazines and cultural magazines come out on Wednesdays, coinciding with the day new movies are released. Despite the situation where the film went up against rivals such as the animated version of the nation-wide popular cartoon "Asterix" series, "Sophie Scholl -The Final Days", and "Rent", "April Snow" made the cover of the "Pariscope", which is like the French version of the Japanese "Pia".
Evaluated as Second from Best
The French residents in Japan all claim that "Making the cover of 'Pariscope' is proof that the film is drawing attention", but for both director Hur Jin Ho and actor Bae Yong Joon, this was the first film to be released in France. The number of theaters that were going to screen it was not that many. There was to be eight in Paris, and a mere 35 in total. The aforementioned "Asterix", was to be released in 36 theaters in Paris alone, and a total of 606 throughout France. But considering the fact that this was the "first film" for the team, the situation was quite good.
According to the statistics of the French box office, "A.S." had an attendance of 1449 on the day it was released in Paris alone, and the total number of people who saw it in France during the first week came to 23,000. Decidedly, the cultural magazines gave favorable mention of the film.
The weekly cultural magazine "Télérama" evaluated the film second to best (out of 5), and introduced it as " A gem of film, with a beautiful portrayal of the subtleties of emotions…. The two leading actors present a miraculous performance in expressing the gentleness, hesitance, and wavering emotions. "
Also, news magazine "Le Nouvel Observateur" gave the highest praise, claiming it was "the most moving film since 'The Bridges of Madison County'".
There were also reviews that paid respect to the director's ability, such as that in "ZURBan".
However, I could not find an article that featured the actor Bae Yong Joon. I was starting to wonder whether this meant that Yong Joon fans did not yet exist here, when I came across a blog created in French called "Always Bae Yong Joon".
The writer of the blog was Camille (49), a Parisienne who is also a mother of two sons.
Three years ago, a Vietnamese friend of hers who was an avid fan of Korean dramas lent her "Winter Sonata", and she went head over heals for him ever since.
"At first, I was taken over by actor Bae Yong Joon's smile, beauty and gentle demeanor. But the more I learned about him, my love for him in terms of his sincerity, gentleness, and human qualities grew deeper and deeper. Even when he is a great star in Asia, he is never arrogant, and is always humble. He is courteous, gentle and always calls us fans 'family'. This is the first time in my life that I have grown to love a celebrity like this!"
Camille started her blog last December. It is basically in French, but in order to communicate with her "sisters" in Japan, she also translates her entries into English. She claims that on average, she gets about 40 visitors per day. She took paid holidays from work to see "April Snow" on weekdays, and saw it in the theater six times.
"I also had the chance to see it in a small film festival before it was officially released – the audience erupted into applause when it was over. In the theater, I have even seen a man humming the music as he was leaving. Every time I went, it was impressive to see that no one stood up from their seats until the credits were shown, and the lights went on in the theater."
Through dramas and films, Camille discovered that "family" had a greater significance for the Koreans compared to the French.
"In the French society, the family system is not as austere as in Korea, and we are not tied so strongly to our families. When the children turn 18 years of age parents stay out of their lives. In our society, children do not need the consent of their parents' to have a relationship with someone, and neither do they hide it from them."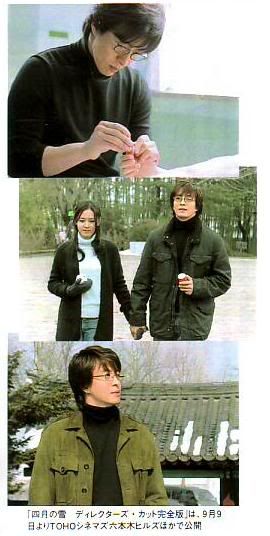 Experiencing Happiness from Seeing the Film
In the portal sites where the viewers can leave comments on the films, one visitor called it the "ultimate melodrama", and there were also a substantial number of comments which hailed the actors' performance.
"Though the characters do not speak much, the actors' rich expressiveness to deliver enables one to fully understand their emotions through the gestures and use of the eyes."
"The scenario is not particularly unique, but the actors are good and the images are excellent. I experienced the happiness of seeing a film."
….
Ms. Kuriko Sato, a Japanese journalist in Paris looks at it this way.
"I think the French felt a new sensation in a pure melodrama. Both man and woman are portrayed in a totally different way from the French films. In the past three to four years, many Korean films, particularly artistic works by directors such as Kim Ki Duk and Hong Sang Soo have been released here. In France, films are seen as a creation of a director, and these Korean directors are highly regarded by the cinefils (movie lovers) and critique magazines. Little by little, I think these films are becoming recognized as 'Korean films", independent from "Asian films."
Expanding from the genre of artistic films, this year alone saw the release of two Korean films – "A Bittersweet Life" and "Duelist". "Brotherhood", which was released last May was screened in 108 theaters in France.
The Day Yon-sama will be Named No. 1
Although of a different genres from "April Snow", "The Host (Gwoemul)" by director Bong Joon Ho stole the attention of the attendants during "Director's Fortnight" at the Cannes Festival. From the fact that master filmmaker of Hong Kong Wong Kar Wai was chosen jury president, along with Zhang Zi Yi as jury, we could see that Asian films are given high recognition around the world.
Yes, in France, the "wave of Korean films" is gradually approaching.
Today, the "the most famous Asian actor in France is (still) Jackie Chan" (Camille), but it may not be long before that name is replaced by Yon-sama. And the day we see him walking down the red carpet in Cannes may be right around the corner.
(Written by Yuko Furuya)
Mr. Patrice Leroy Talks About Korean Films

A Nostalgic and Refreshing Relationship Between Man and Woman
- Brought Forth Through the Eyes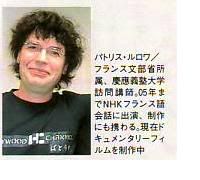 In the early 70s, "Asian films" in France meant "Japanese films", "Ozu", "Kurosawa" and Nagisa Oshima. Later however, until Takeshi Kitano appeared, Japanese films lost their value in France.
The French then shifted their attention to Asian films other than the ones from Japan, such as Korean films. In them, they found not only a unique use of color in the images, but sensuality, delicate wavering of emotions, and the hidden eroticism of a man and woman… These are sensations that have been forgotten by the French people of today. France has become a very liberal country in terms of its religious beliefs and romance.
Living in such a society, the Korean film "April Snow" showed us a relationship between a man and a woman that is different from reality. Here, both of them desire to touch each other but cannot, and feel the connection between them through each others' eyes. For women over the age of fifty, this is a nostalgic feeling, whereas the young generation discovers it as a novel sensation. Not only romantic movies, but Korean films with "violence" as their theme are also well received in France. The violence in Korean works becomes apparent with the eruption of hidden emotions. In France, violence is a closer existence. The difference is probably what attracts the viewers.
At the same time, some of the intellectuals have started regarding Korea as a historically interesting country. I do believe Korean films are beginning to set root here.
If I were to be asked if there was a possibility that Bae Yong Joon would be popular in France, I would answer "yes". Presently, they are airing an American love story every morning which is obtaining a high viewer rating. If they show "Winter Sonata" in this time frame, it would surely draw attention. I would think that the yearning to see a romantic drama and the joy of discovering a man with a pure heart like Yong Joon is a psyche shared by women of all countries.
"April Snow" has laid the groundwork for him to be recognized there. If another film was released shortly, and draws attention, there would be a possibility that he would become a star even in France. Though of course, the French do not possess the mentality to rush over to the airport to see him (laughs)
(Patrice Leloy belongs to the French Ministry of Culture and is also a visiting professor at Keio University in Tokyo. Until 2005, he appeared in NHK's French language program, involving himself in its production as well. He is currently creating a documentary film.)