Kissing a Life Size Panel of Him
After lunch, it was time to enjoy the exhibit. One had to wear white gloves (like a clerk at Hermes) when turning over the pages of the file of works or photo albums. Some even had gloves with Yon-sama's photo printed on them.
A housewife living in Tokyo (age 66) who exhibited her pencil drawings said, "Yong Joon-san is always on my mind, and I am just so happy when I am drawing.".
People tend to excel in things they enjoy doing. She claims that it has only been a few months since she began drawing him, but even his sorrowful smile is expressed impressively with delicate touches. Recently, she has started to post her drawings on fan sites abroad, and enjoys communicating with "Yon-tomos" (friends made through Yong Joon) from many countries including France, Egypt, Myanmar, and Mexico with the help of a dictionary.
For those who want to take a commemorative picture with Yon-sama, there is a life size panel of him. Downloading a photograph from the promotion of the film "Untold Scandal" in which Yon-sama is kissing actress Lee Mi Sook, a member enlarged it and pasted it on cardboard. However, though no offense is meant to Ms. Lee, her face is cut from the photo. The fans each take turns peeking through the hole, and "Smile!"
Just around the time "Winter Sonata" was aired on NHK's land broadcast in 2004, "yonfluenza" became an epidemic among women, most of them in their middle age or higher. When Yon-sama made his first visit to Japan in April of 2004, approximately 5000 fans rushed to Haneda Airport to see him, and this became a social phenomena.
However, he has not made an official visit here since last August, and there has been no new works done by him after the film "April Snow" which was released last fall. News coverage on him has decreased substantially, and it seems as if the boom has left.
The Total Amount of Energy Generated Has Not Decreased
But watching the excitement of the fan gathering mentioned in the beginning of this article, one senses that this is no ordinary affair. The enthusiasm of the fans has not changed in the least.
Advertising copywriter Ms. Junko Matsuyama (40) found herself swept away in this storm, and ended up writing a book called "The Bae Yong Joon Theory" which features her analysis on the passionate feelings of his "family". According to her, "those who went crazy over him just by his looks alone have left, so the number of fans may have decreased. But the total amount of energy generated by us has not changed since the passion of each fan has actually gotten deeper. Yon-sama has taught us Japanese women to shine in our lives as "an individual", and not only as a wife or mother. We have discovered the happiness of connecting with people, the joy of pursuing our curiosity, and the importance of developing ourselves no matter how old we are. The fans sublimate what we have learned from him in our daily lives, and deepen our love for him even more".
For Matsuyama-san, too this was the first time she ever wrote a book. Her strong urge to explain her feelings towards Yon-sama to people who are not his fans, motivated her to write this long piece. In March, she launched her own blog on Yon-sama as well. There are days when her hit counter shows as many as 4000 visitors. Before we met for this interview, she asked her readers the following question: What changed in your life through your encounter with Yon-sama? Some of the answers:
"I have become capable of holding true feelings of kindness towards others."
"I have a better relationship with my mother-in-law."
"I started to sponsor a child in a developing country."
"I was able to overcome subarachnoid hemorrhage."
She received lengthy responses from approximately 80 people in just two days, and she confirmed her belief that the "family" was converting their passion towards Yon-sama into various forms of energy.
Ms. Tomoko Wada (70) who lives in Kanagawa Prefecture is one of them. Ever since she became captivated by "Winter Sonata", she has visited Korea about 30 times. In the beginning, her activities consisted of things like participating in fan meetings and taking tons of pictures at places where "Winter Sonata" was shot. After awhile, she became friends with the tour guide, and started to build a personal relationship with her. Thereafter, she made trips to Korea regardless of Yon-sama.
Now, she has many friends in Seoul who call her "onma" (mother). Last year, she invited a Korean friend to her home, and they went on a trip to an onsen together. In late June, she even attended a wedding of the daughter of a friend.
A Donation of more than 15 Million Yen
Ms. Wada claims, "I was not one to use cell phones, but now I have two – one for Japan and one for Korea."
Around the time "Winter Sonata" started on TV, her husband had just passed away – she had nursed him for six and half years. She did not how to enjoy herself. Due to the influence of the age she was brought up, Korea was the country "she disliked the most". But with the motivation of wanting to know more about Yon-sama, she naturally became more active. Once she came to know the country, she was free from the prejudices.
Due to the age limit, she had to give up her dream of enrolling in a short term language program in Korea, but she has no problems in exchanging greetings in Korean, and she is able to grasp the meaning of most conversations. Now, her activities in connecting with Korea, is like a lifework for her.
"I will take my grandchild to Korea for the first time this summer."
Satovic-san, a woman who works for a medical institution has extended her passion for Yon-sama to charity activities.
"Abroad, charity events initiated by fans are not unusual at all. I thought it would be great if we could do it here in Japan, too," she said.
When she called out to her friends in the internet fan site she leads, many members volunteered to help out as staff. On such occasions as Yon-sama's birthday which is August 29, and Valentine's Day, they held events like DVD screenings, and art exhibits of works inspired by Yon-sama. They collected donations during these events by placing a box in the room, and also called at to the members who were not able to attend.
Through these activities, the donations collected to date amounts to more than 15 million yen. The site has made donations to the relief efforts for the Niigata Earthquake and Sumatra Earthquake and Tsunami (Yon-sama himself offered his aid to both of these disasters), and also to the scholarship foundation founded by the parents of a Korean named Lee Soo Hyun who died in his effort of trying to rescue a man who fell off the platform at Shin Okubo Station.
The activity reports of such events are all posted on the board and translated into Korean, English and Chinese. She hopes that such efforts would lead to building better relationships with other Asian countries where politics tends to create tension. She claims that they are always able to find skilled members who are willing to take on these translation tasks when she calls out to them on the site. Satovic-san looks at it this way.
"I think everyone had the desire to do something that would be of help to others, but just never had the chance. Perhaps the love for Yon-sama released these feelings in a natural way."
The Japan Yon-Yon Gakkai (Academic Conference)
In a rehabilitation room of a clinic in Matsuyama city (in Shikoku), about 50 people – patients and their families – gathered for the second "Winter Sonata" Concert. The initiator of this event is the wife (45) of the owner of the clinic. While she talked with the patients when she was working at the reception counter, she discovered that elderly patients who had nothing they enjoyed in their lives, were smiling happily when they talked about Yon-sama and "Winter Sonata".
"I've never planned anything like this before, but I felt motivated by the power my other Yon-tomos (friends) had."
Some patients shed tears of joy listening to the music. She feels that she no longer has the kind of urge to fly to Tokyo to get a glimpse of him when he is in Japan, but her love for him has not changed.
To top things off, they now even have a "Yon-Yon Gakkai (academic conference)". The theme of this event is to analyze the charms of Yon-sama and the reasons why people are attracted to him. A staff of this meeting, Ms. Keiko Ichihasi (53) who is a nurse talked about how this group came about.
"I was really surprised when I discovered that so many of the Yon-tomos are well-educated people. I thought it would be interesting if we had the opportunity to put our ideas together and made presentations in front of an audience. It would be different from the informal conversations we have at fan gatherings".
On the second of this month, 90 members of the family assembled for the first conference which was held in Kyoto. The title of one of the opening presentations was "Yong Joon Kazoku (family) Categorized in Nine Groups". Here are some of the categories - "Chaser type" for members who can't help chasing after him, "Collector type" for people who are into collecting Yon-sama goods, "Information Searcher type" for fans that sit in front of the PC all day in search for information on him. Another family made a presentation in Korean (she learned after becoming his fan), on the process of how her feelings changed after she became captivated by "Winter Sonata", and another presenter analyzed a fan fiction, "Sequel to Winter Sonata".
Later, guest lecturer Professor Tatsuru Uchida of Kobe College who claims to be a "Winter Sonata" fan, presented an philosophical analysis intertwining the plot of the drama with his views of life and death.
To conclude this article, I would like to introduce the professor's comment on this conference which he posted in his own blog:
"I cannot recall seeing presentations so rich in criticism and humor as the ones I saw today in a long time. The people here do not possess base motives such as trying to gain intellectual pride, demean theories posed by others, or show off their knowledge. All of them give their intellectual and emotional resources up to the fullest in the quest of "how to extract maximum pleasure out of each of their unique Bae Yong Joon experience".
-----------------------------------------------------
Here is the photo of the contents of this issue.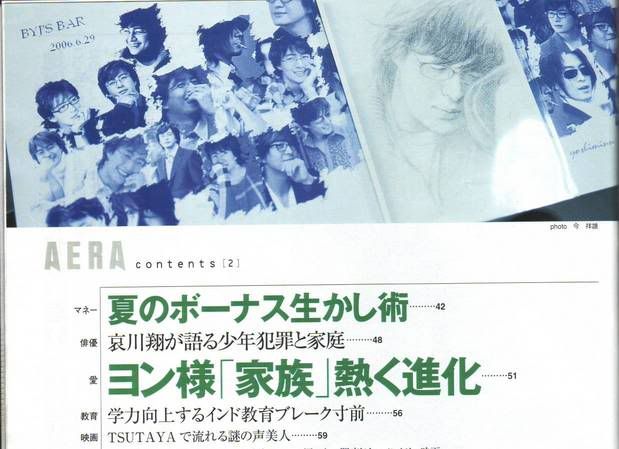 It's a picture of the luncheon mat mentioned in part 1 AND….
Something look familiar?
Yes, it's the drawing by "pallet"!!
She was also quoted in the article. Guess which one!
-----------------------------------------------------
EXTRA!!
Here are some photos of the "BYJ's BAR" mentioned in this article.
(I would like to thank the staff of the BAR for their kind
permission to post them here.)
Entrance
Exhibit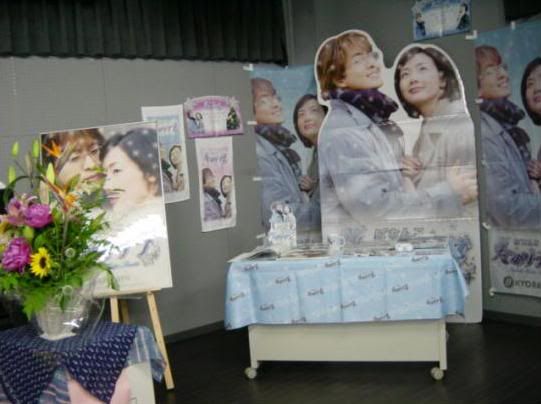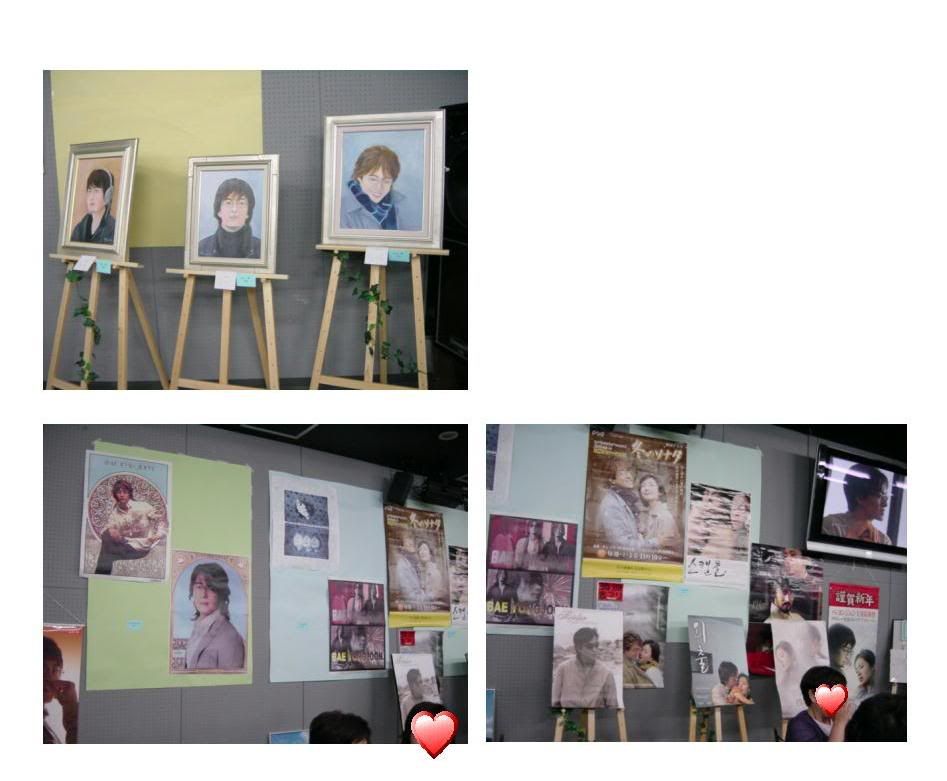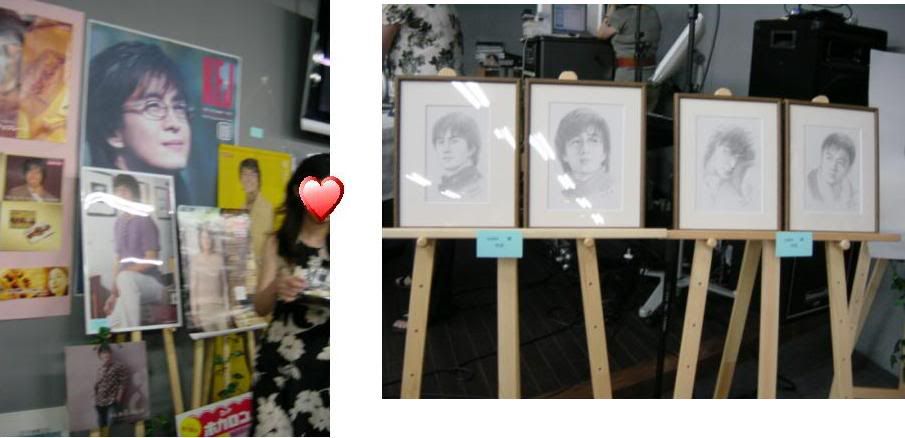 Lunch!
Souvenirs !
The end! Till next time!