(Kim Tei-ssi was the MC for the "Gosireh" Opening Press Conference.)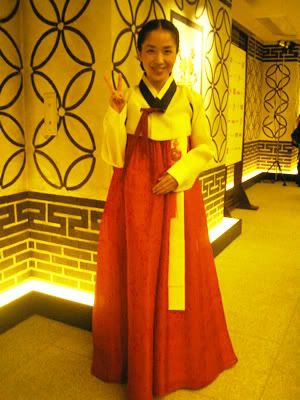 Yong Joon-san seemed a bit thinner perhaps due to the preparations for the new drama, but he was very handsome as always!
Although the exterior still needs some work, the interior is absolutely magnificent! It is like a first class hotel, very stylish. The walls and ceilings have beautiful Korean patterns on them.
Dinner was served after the press conference – the food tasted refined and brought out the best in the ingredients. As for the table ware, the curves gave a very warm feeling giving us a faint reminder of the beauty of the past.
I heard that the art director of "Untold Scandal" Chung Gu Ho designed everything from the interior of the restaurant to the furnishings, tableware, and even the uniforms.
The costume I wore today was the uniform for Gosireh.
I think one can spend a moment of beauty in this restaurant.
(For more pictures, go to http://www.alc.co.jp/korea/culture/tei/index.html)