Hello everyone! Having a happy summer?
Just about a year ago, wuri satovic encountered a "miracle", and she was good enough to share the story with us here on Quilt. But because our family is growing bigger by the day (hurray!)and also because the first part of satovic's adventure has not been translated before, satovic and I would like to share the complete version of the story with you again.
Hope you enjoy it!
♪  ♪  ♪  ♪  ♪  ♪  ♪  ♪  ♪
Alright let's start the story from Taiwan, in August of 2005. In midst of the tropical heat, this was where it all started – after participating in a fan meeting in Taiwan, I flew from Taipei to Seoul. And on this flight, I was able to spend 2 glorious hours with Yong Joon….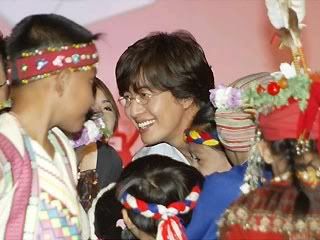 Chapter One "The Seven Angels on Yong Joon's Back"
In August 2005, Yong Joon started his "April Snow" promotion tour from Taiwan.
Among the Asian countries, Taiwan was the first to air "Hotelier" and they had a fan club even before the age of "Winter Sonata". I think it was very loyal of YJ to start his "Untold Scandal" tour in 2004 and also this "April Snow" promotion tour from Taiwan. The Taiwan family is very proud of this. The Taiwanese family expressed their willingness to welcome us Japanese to the event - and because it just so happened that his visit coincided with the Ghost Festival holiday, and our family was feeling somewhat uneasy about the number of fans who were actually going to attend the event, I decided to call out to many people as possible to visit their country.
Because I had never done anything like go to the airport to welcome him, I never had the chance to see YJ in person. So, at that time, I never thought a miracle like this (which I will share with you later) was waiting for me in that trip.
For our trip to Taiwan, we from the fan-site B.S.J. had taken along two banners.
On one of them, it says "Insu ya! Aigoo charuwatta" (flowerbossa:sorry, I don't know the correct pronunciation in Korean)" Actually, the purpose behind this banner was to make YJ laugh and have him feel relaxed. "Aigoo charuwatta" is a dialect in Korea which means something like, "Well, looky who's here" or "Gee, it's good to have ya", and we were able to make every Korean person laugh when they saw this. Since wuri prince always seemed a bit nervous when he goes overseas, we wanted to loosen him up with this hilarious banner.

On the second day of his stay, he went to see an ailing fan at the hospital. When he returned to the hotel he was feeling somewhat depressed from seeing his family in a serious state, but as he got out of the car and saw our banner at the entrance, he cried "Ah!", bringing his hand to his mouth, and laughed out loud pointing to the banner. YES!! We had done it - it was a great success!
Actually, we came up with A LOT of other ideas for the phrase to be used for this banner.
One of them that made it to the finals was, "Aigoo, ige kuminyasenshiya?"
It is a phrase that is used in such situations as when a separated family is able to reunite after a long time - a small old woman in a han-bok would express her overwhelming feelings with her whole body, slamming her hand on the ground crying out, "Oh, am I dreaming? Or am I seeing illusions?" It is a line used to express one's bewilderment in seeing someone who seems like an illusion, and cannot determine whether he is dead or alive. Later you will see that this phrase would make YJ laugh his head off at a most unexpected moment. ^^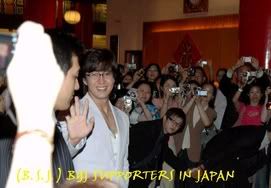 Now, on the final day of his stay in Taiwan, after participating in the fan meeting, YJ went back to the hotel and came out after changing into a white jacket. At the airport, the Taiwan media swarmed around him, and they walked with him in this mob state that it was really dangerous. The fans were all waiting in a line, but the tourists who happened to be there noticed the commotion and with cameras in their hands, added themselves to the mob crying out things like, "Oh, it's Bae!", "Where, where? You mean it's Yon-sama?" The mob was getting bigger and bigger and the situation was truly getting out of hand. The press often give out reports claiming "Bae Yong Joon, mobbed by fans at the airport", but the real picture was THIS.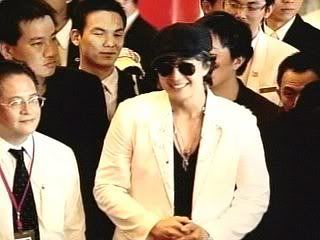 When he got on the escalator to go to the VIP lounge on the second floor, someone who tried to take his picture from the descending side fell down. It seemed like the man's clothes were caught in the escalator, and he was having a hard time getting up. Because the photographers were too busy trying to catch YJ, what do you know, the first one to lend a hand to help this person was YJ himself! And he was on the other side, too. What a great guy he was! Even in the midst of almost being mobbed to death…..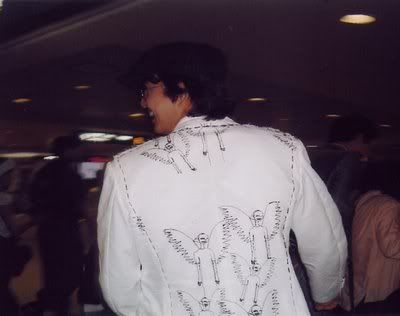 (posted by 권오경 on byj gallery)
I had been watching this scene from the foot of the escalator, and at that moment, I was finally able to see what he was wearing. On the back of his white jacket, seven angels were printed. The eighth angel only had a body, and because it was headless, it seemed like Yong Joon's own head was attached to its body. Perhaps he really is an angel after all… And underneath the jacket he just maybe hiding his wings ^^
(to be continued)