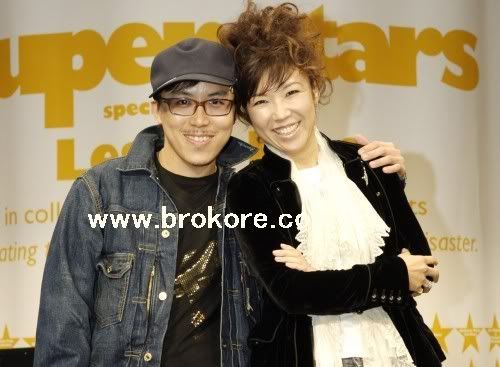 From Sohn-san's blog:

I just got back fro L.A. ……………….(omit)

Today, I would like to introduce Leslie Kee to you.
This man who is a year younger than me is an extremely famous photographer in the world of fashion and advertising. He is another person I met in connection with BYJ. Although I am rarely able to become friends with someone I meet through work, with Leslie, I was able to open up to him immediately.

When he was working in New York, he saw the news of the Tsunami Disaster in Asia, and he set out to help the victims by doing what he was best at, which was to take photographs. He explained his ideas to the celebrities he met through his work and photographed them without compensation. He covered all the expenses such as studio fee, hair and make-up etc. on his own, and photographed a total of 300 Asian stars. Of course, Bae Yong Joon is one of them.

When we talked about doing something together, we immediately decided to collaborate on this exhibit of his photo collection, with IMX is participating in the planning committee. During its preparation, the staffs in charge were really hard at work, and Leslie himself worked all night until sunrise for many days at the IMX office. What is really wonderful about him is that through it all, he was always smiling, and proved to be a cheerful conversationalist. He is so positive at all times – being a worrier by nature, I sometimes feel disgusted with myself when I am with him (looking at in a different light, you could say that Leslie is naive.)

The exhibit we prepared hard for will begin in Omotesando from the 11th. And, the making of the shooting sessions has been compiled in a wonderful book. Of course, the book contains YJ's photo, but it also includes an interview between Leslie and me (Sohn-san feels shy about it). Reading it, I find that I was not able to convey my real thoughts, and just like when you have your photo taken with puffy eyes, it is somewhat embarrassing. But the interview by the other artists and the photographs are really wonderful, so I hope you will come see the exhibit and also take a look at the photo book as well.

I think I will be writing about Leslie again in the future - I feel that as an Asian friend who I can share my dreams with, I hope we can always be close friends. Don't you think that it gives you strength to carry on even at hard times, when you have a friend who you can really talk to? Following his example, I hope to try even harder in the future.

I would like to thank Leslie who has fulfilled his dream due to his strong will, and every one of the 300 stars who has participated in his photo collection and this event. I am also grateful for the staff members who are still dedicating their energy this very moment.