From Sohn-san's blog
2006/11/08
Why Classical Music?!
I've often been asked, "why is your company dealing with classical music?" On such occasions, I try to explain it this way - there are many talented musicians in Asia, but because they perform music which has its origins in Europe, even someone who had been tagged a prodigy often has a hard time making it as he grows older. It is my wish to assist these artists to realize their potential.
For everything there is a catalyst, and what lead me to start dealing with classical music began with my encounter with Maestro Myung Whun Chung.
I had known of him since my childhood days – he is a celebrated figure in Korea who is known by virtually everyone. As a child, just like everyone around me, I took violin lessons around the age of six and quit immediately, then was made to practice the piano, and quit that, too in no time. Looking back, I think I should have stuck with it a little longer, but as a boy, I enjoyed baseball more, so it's no use regretting it. Being the type that has a hard time keeping at something that is difficult, I can't help respecting someone who continues to pursue his specialty for many years, remaining a leader of the world.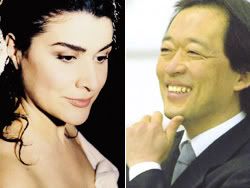 Needless to say, it is great to see him in a concert for his wonderful conducting and performance at the piano, but I am also moved by the man himself – his down-to-earth and kind personality is revealed at times when we dine together. He changes from a charismatic conductor to a nice, good natured "ajoshi" (no offense) who serves pasta for the people at the table. . More than anything, he has been passionate about helping the artists of the next generation for some time now, and although he is very busy with his own career, he is constantly thinking about volunteering his services and carries them out energetically.
When I met the maestro for the first time, it was in the presence of HIH the Crown Prince of Japan, and both of them talked about Bae Yong Joon and "Winter Sonata". They said Bae Yong Joon-san was really something. I guess a man who is really great receives the recognition he deserves.
Now, it wasn't ME they were praising, and "Winter Sonata" is not even my own work, but I have a feeling I said "thank you" at the time. How foolish of me…
(Sohn-san goes on to recommend the upcoming concert that will sponsored IMX. Maestro Chung will be conducting the world renowned orchestra,Dresden Staatskapelle this month in Tokyo and Osaka.
Incidentally, Sohn-san complained of jet lag in his previous post, and had written the above early in the morning before he came back to Japan.
Turns out that he has just come back from a business trip to LA!)